Goodrich Gallery (Singapore)

Visit this
flagship gallery
at Level 1 of Goodrich Building, 8 Changi South Lane Singapore
"The number of customers visiting our gallery are increasing and many of them still prefer to touch and feel products, and talk to our sales people for more product information, alternatives and solutions. The pandemic really forced us to reconsider how people shop and experience design. Our refreshed gallery coupled with expert knowledge is in our vision for the Goodrich interior furnishing experience," shares Mr. Yasushi Furukawa, Group Chief Executive Officer of Goodrich Global.
Start decorating your dream living space at Goodrich experiential gallery and discover the inner interior designer in you.
Make an appointment with us
today!
From vision to reality, a gallery that lets you design like an expert
Designed like a 'live' mood board, the gallery's design has been specially optimised and curated to address the challenges of decorating the indoor and outdoor living spaces in homes and commercial properties. These range from space-saving bedrooms to living room solutions in residential and commercial properties design in hospitality, healthcare, schools and childcare.
Explore showrooms modelled after a living room, bedroom, hospitality venue, healthcare setting, schools and childcare. Product offerings are organised in three zones where upon entry, you are warmly greeted by the reception and Goodrich's hall of fame. The fabric zone is the first product experience to encounter as you venture inside the gallery, followed by the wallpaper zone and finally the carpets and vinyl flooring zone located at the back of the gallery. An entertainment area for children is located in the middle of the gallery to keep the kids occupied while their parents are busy browsing.
Story telling in these concept rooms that inspire | the top trending Living Room, Bedroom, Hospitality, Healthcare, Schools and Childcare
Goodrich provides an up-to-date overview of what is trending in modern space planning: the top interior trends in the Living Room, Bedroom, Hospitality, Schools and Childcare, feature all the design and decorating solutions in a modern space.
1.LIVING ROOM DESIGN | Multi-functional and adaptive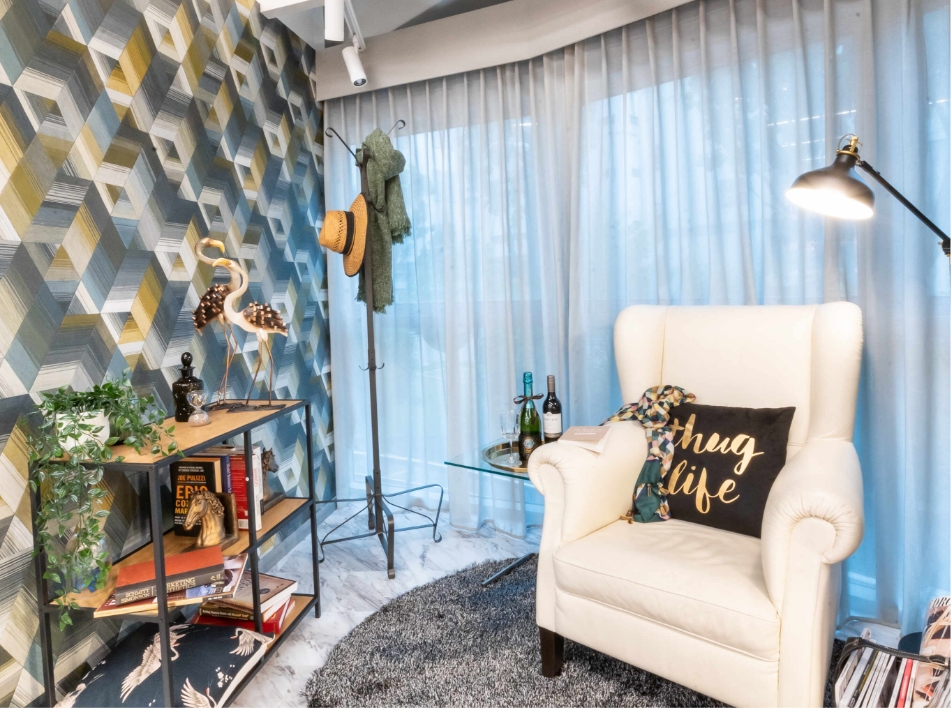 Having to work from home makes many realise that even in the combined rooms, privacy should be preserved. Especially if there are more than two occupants, and not everyone has a job. In this case, wallpapered partitions are a cool and easy way to implement the idea of creating private areas. Wall panels when wallpapered allow a room to be transformed quickly without tearing down walls.
2.BEDROOM DESIGN | Aspirational with natural materials and textures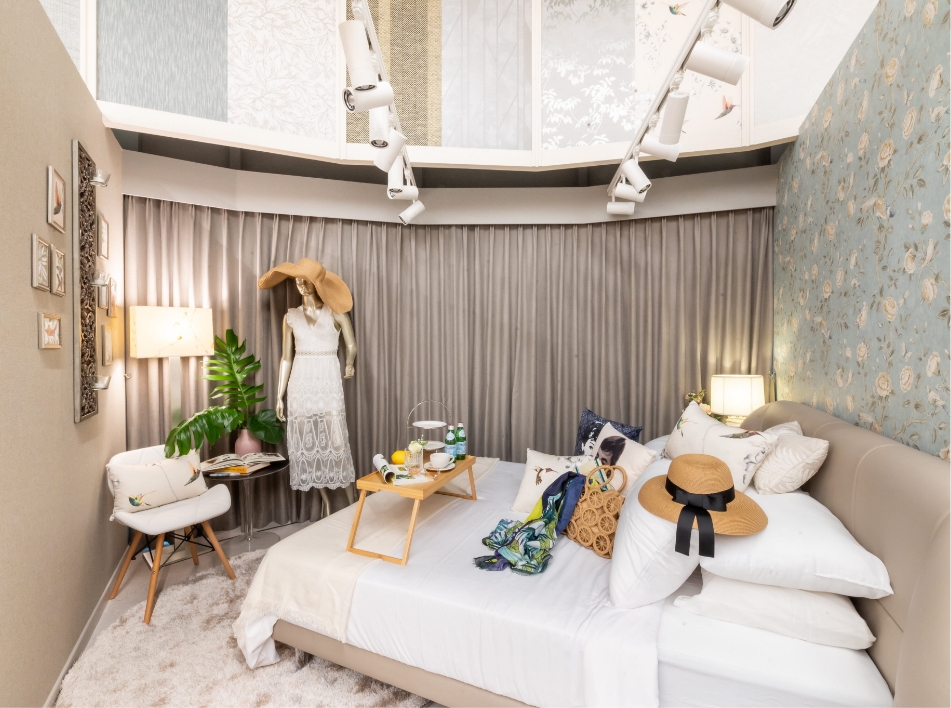 The bedroom is a place of rest, security, physical and mental relaxation where you isolate yourself from the whole world in search of internal harmony. A clean and elegant design that brings pleasure is therefore an integral part of a bedroom design.
Textures in bold combinations of wallpaper, curtains and flooring can completely transform the bedroom into a place for more than just sleep.
3.HOSPITALITY DESIGN | A home away from home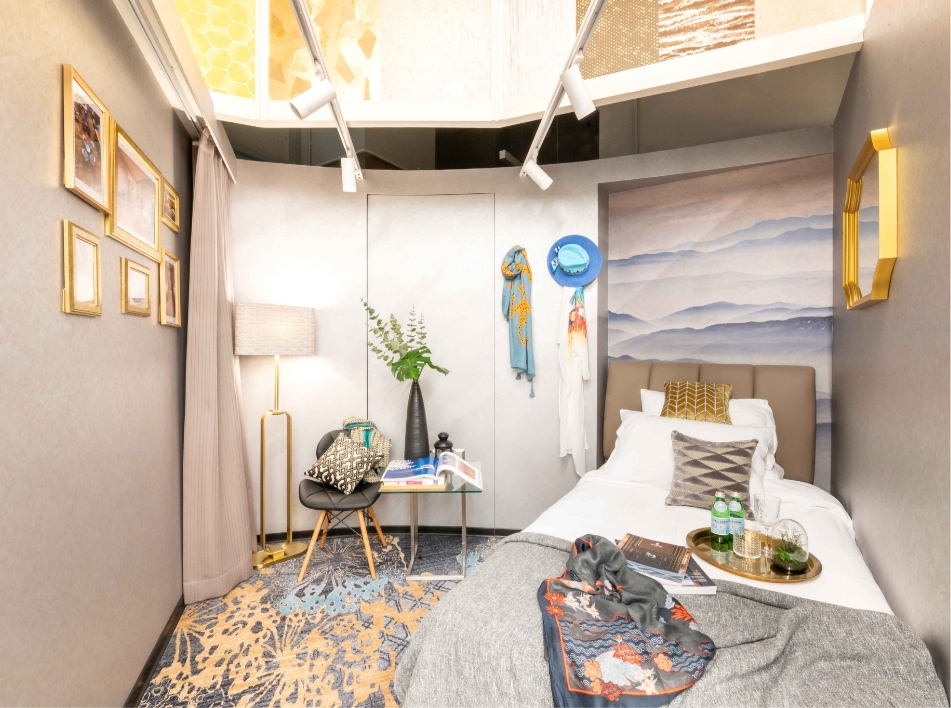 In the guestroom setting, digital wallcovering provides the perfect tool for customising a space. A digital print of a wall mural reflecting the blue skies flanks the bed and sets the theme for the room. The designs and colour palette on the carpet are also customised to complete the boutique hotel theme.
4.SCHOOLS AND CHILDCARE DESIGN | Playroom Meets Classroom.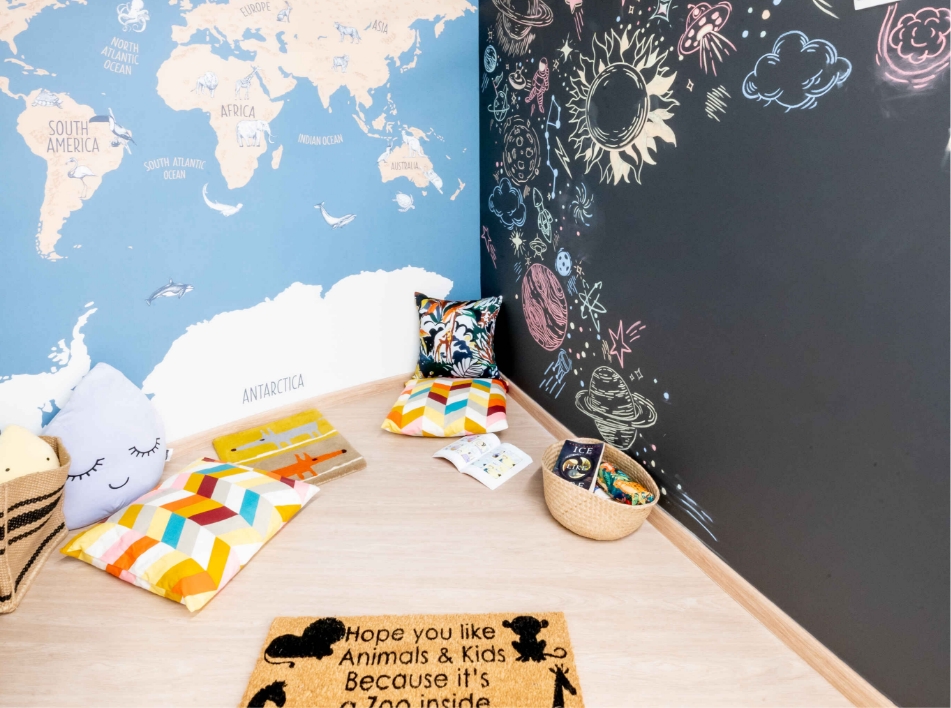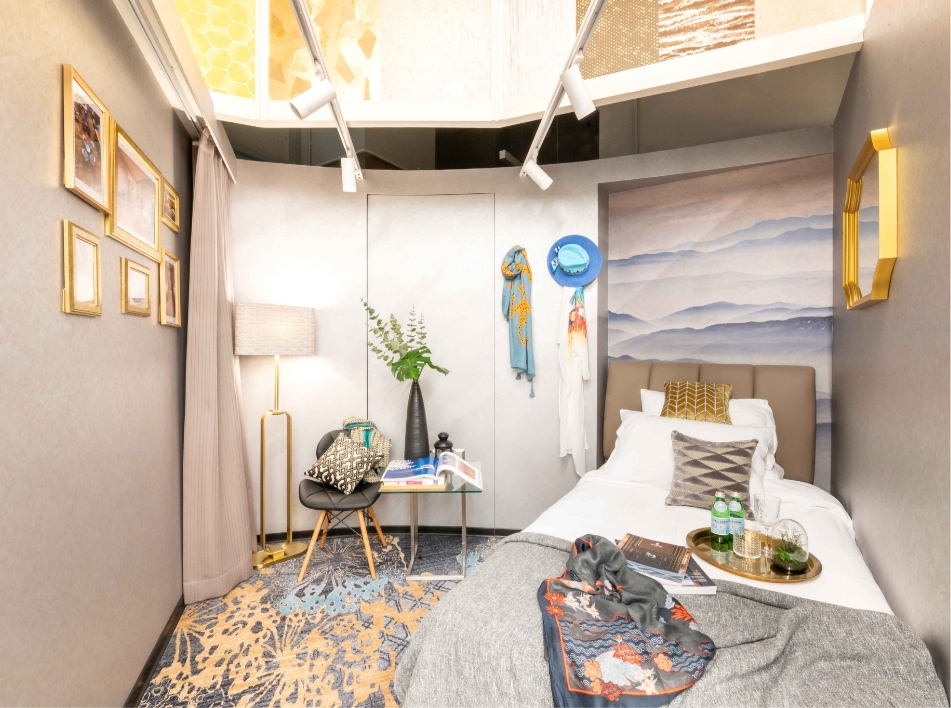 Relaxation and leisure activities take precedence in designing spaces for children. Walls are geared towards children's needs and depict their world in all facets. A chalkboard wallpaper in the playroom setting encourages the freedom of personal expressions and a chic utilitarian alternative for growing children.
INTERIOR DESIGN MADE EASY WITH CUSTOMER-FRIENDLY FEATURES
Self-serve flip panels located alongside the gallery walls allow customers to experience the wallcovering samples. The panels are detachable to allow customers to mix and match with other materials.
TABLE-TOP SERVICE COUNTERS
Self-serve flip panels located alongside the gallery walls allow customers to experience the wallcovering samples. The panels are detachable to allow customers to mix and match with other materials.
Each shelf is installed with built-in LED lighting to showcase each material's aesthetic clearly.
Vinyl floorings like Herringbone designed floorings are used in two areas of the gallery at a large area. Customers are able to view the vinyl flooring plans and specifications at the shelves and into the individual drawers
Find Goodrich performance-driven outdoor decking for gardens and balconies just outside the gallery where the flooring can attest to its hardy qualities when exposed to the sun and rain.
A showcase of large real leather hides had been created to allow customers to see and feel the real leather hides upfront and close.
A total of two dedicated meeting rooms cater for conducive environment for private discussions. Walls are geared for presentations with Walltalkers, a whiteboard wall that is writable, erasable and doubles as a projection screen. Glazing partitions coated in patterned glass film sets the rooms for some privacy.
For Goodrich business platform, an adaptive space dedicated to designers and contractors to conduct discussions and learning sessions.
ENTERTAINMENT SPACE FOR CHILDREN
A resting space where kids can watch movies and play while their parents shop.
For wallpapers/ wallcoverings, Goodrich carries the following leading brands:
For fabrics, Goodrich carries the following leading brands:
For carpets, the brands as follows:
For flooring, Goodrich carries the following leading brands:
Goodrich Global, Goodrich building, 8 Changi South Lane #01-01 (Showroom-Goodrich Gallery) #05-01, Goodrich Global Headquarters, 486113
Feel free to reach out to our team if you have any enquiries.