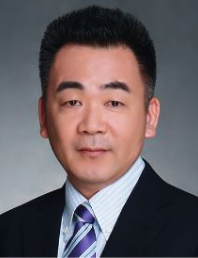 "This year we turn 40 and I am particularly proud with what our team has achieved. Many of you have been on this long journey together with the company. Together we have weathered business cycles, overcome insurmountable challenges and created the Goodrich Global story."
Group Chief Executive Officer | Goodrich Global
Governments around the world has seen a shift in market dynamics as a result of the global COVID-19 pandemic. During the crisis, we learned that more than ever before, our communities' heavy reliance on being digitally connected while they were forced to be physically apart. At a time when the physical world is being locked down, digital connectivity is essential.
Today, we remain both concerned and optimistic about what lies ahead. But, mostly, well-prepared for the unknown. The crisis is real and its risks are materializing.
Changing perception and turning a slow market to our advantage will require a lot of hard work. While the pressure is on us to successfully navigate and change perception as the market evolves, we need to imbue a new mindset to remain steadfast in changing markets.
As we venture into post pandemic stage, we are adjusting to the new future. But we have begun thinking and preparing for it. We do know, for now, that the new future will:
A review of existing systems in our regional branch offices for their performance and growth expectations is essential to build a strong organizational structure in each Southeast Asian country. We have established local subsidiaries in Vietnam in March 2020 and in Thailand in June 2020, in line with our expansion plans to formulate strategies that are closer to the region.
The China and Southeast Asian markets are unique by merit of their local functions and service expectations, which depend greatly on variables such as industrial structures and service values. Building a local business model helmed by a strong management team based in each country is more advantageous for the company, to develop optimal product strategies for each market. With this strategy in motion, we aim to increase earnings in these markets respectively.
AIM TO FURTHER DEVELOP THE MARKET IN THAILAND
Our new branch office in Thailand is focusing on the sale of interior furnishings' products and services as well as their designs and constructions. We aim towards further developing the local market, as we leverage on Sangetsu's growing market presence. Wallpaper has been a popular decorating material often used in hotels. As such, we are working towards strengthening product capabilities such as design, construction, and applications to drive sales for the interior designers at large. Despite COVID-19 travel restrictions, our team managed to continue business as usual via virtual meetings.
OPTIMISE PRODUCT STRATEGIES FOR EACH COUNTRY'S MARKET
The Goodrich Group's business model has been to first select suitable product lines at its headquarters in Singapore and then sell them to the Southeast Asian countries through its branch offices. This business model is currently under review, as we promote to develop sample books of common products that are sold by all companies in the Group. We have assigned product development managers in each country to focus on developing local products that have a higher sale potential. By balancing the number and quantity of inventory for Group common products and local products, we will promote the efficient use of sample books.
The improved sample book can be used in all countries serviced by the Goodrich Group in overall sales processes and offers the following benefits:
In addition to strengthening our relationship with customers and partners, we are also conscious about improving the environmental footprint in our operational activities. We will continue to support corporate social causes in the communities in which we operate.
Lastly, we are constantly reviewing our safety processes and practices to ensure that there are no lapses, and that the highest safety standards are upheld in every project that we execute
To grow our business, we will work to ensure the increasingly diverse and sophisticated needs of our customers are met, by expanding on product strategies to cater to unique local markets.
As we actively pursue new areas of business, we remain committed to our enduring mission to enrich society through our expertise in interior furnishings.
In conclusion, it is important to recalibrate ourselves for the changing times and to move forward together as a team. Earning the trust of our customers and all stakeholders is paramount. Guided by our people-centric approach, we will continue to uphold our longstanding values of entrepreneurship, teamwork and integrity.
Feel free to reach out to our team if you have any enquiries.